Thursday, January 29th, 2009 by Tina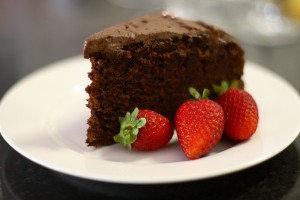 I believe there may end up being many posts with a similar title, but for my friends who requested the recipe for the Chocolate Buttermilk Cake enjoyed on a Friday night a few weeks ago, here it is. Thought we should also take a pic before it is all demolished.
This is a really easy recipe, similar in method to making brownies and the buttermilk adds such a lovely flavour to the cake that makes it moist and moreish and not at all sickly.
Just type in Chocolate Buttermilk Cake, at the Australian Women's Weekly Website: http://aww.ninemsn.com.au/
Notes:
1. I used my grandma's old springform tin which is 23cm (so a little bigger than the recommended 22cm)  and I checked the cake along the way but didn't put a skewer in until 7 minutes before the end of the cooking time and it was definitely cooked by then. It was still moist, but I like my cakes on the cooked but gooey side
. So next time I will pull it out after 1 hour, instead of the recommended 1 hour 15. My new oven is a strong beast and I am still getting used to it!
2. As you are using so much chocolate in the recipe it has a tendency to go black on top if you are not careful. Burnt chocolate is not nice. A few tips: one is when you line the base and sides of the tin with baking paper make the baking paper wider so it sits an inch or two above the pan so that it provides a little extra protection from over browning, or you can also keep an eye on it and towards the last 20-30 minutes put a piece of foil or baking paper on top to stop the browning process. This is easier if you are not using fan-forced as it will blow around a bit!
Icing
The Chocolate Ganache icing was made based on a recipe from Stephanie Alexander's Cooks Companion and I used Lindt Intense Orange chocolate  (a pantry staple, well there is always some chocolate, it just happened to be this one yesterday) which gave the icing a Jaffa flavour, yum.
Buttermilk
Link below for those wanting a bit more info on buttermilk. It is also nice in muffins or pancakes.