Sunday, July 22nd, 2012 by Tina
My favourite comfort food – rabbit and pasta. The ragu is from Stephanie Alexander, it's her 'hare pasta sauce' but made with rabbit.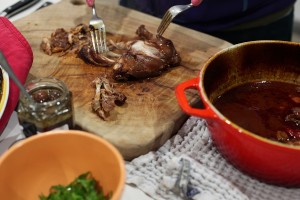 The pasta is saffron linguine from Marrickville markets. Parsley, thyme and bay from the garden. The wine to deglaze the pan and relax the chef is a McLeish Estate cabernet sauvignon/merlot.