Last week I made a big lasagne for dinner.  Here is the recipe for anyone who wants to try it.
Note, this is big enough for eight people. For us it is just two hungry people, then leftovers for the next night and the rest in the freezer, in portions which microwave really well.
I used to use a 27cm x 18cm (10.5″ x 7″) base, ceramic oven-proof baking dish and only used 700g mince and a few less vegetables. For this bigger version I am using a new dish that my sister gave me for Christmas (33cm x 23cm (13″ x 9″)).


The Bolognese sauce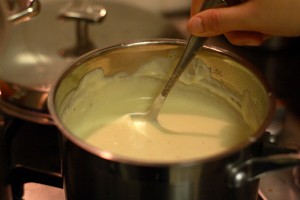 A thick Bechamel with cheese melted in at the end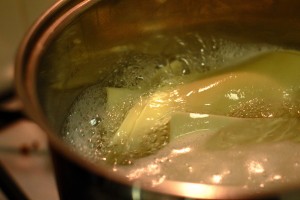 Madly boiling lasagne sheets in salted water in my largest pot


It's best to cut it into portions or else you'll eat it all at once 🙂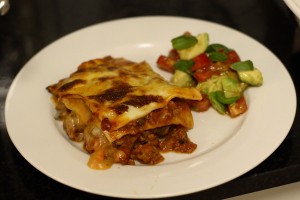 A small salad of ripe tomatoes and avocado with fresh basil, extra virgin olive oil and some balsamic completes the meal
Ingredients
2 tablespoons (40mL) extra virgin olive oil
1 tablespoon butter (20g)
1 brown onion, peeled and finely diced
2 carrots, peeled and diced
3 stalks celery, diced
2 cloves garlic, crushed or chopped very finely
3 field mushrooms, stalk removed, diced (you can use button or swiss brown)
1kg lean beef mince (from the butcher if you can)
1 tbsp tomato paste
700mL bottle passata (Italian pureed tomatoes. Get one with just tomatoes and salt)
2 bay leaves
1 teaspoon dried oregano
salt & pepper
1 packet dried lasagne sheets
60g butter
3 tablespoons plain flour
3 cups milk
1/4 cup parmesan, grated finely
1/2 cup smoked cheddar
1/2 cup freshly grated mozzarella
a pinch of freshly grated nutmeg
S & P
Method
Bolognese Sauce

1. Heat oil a large heavy-based saucepan then add butter. Once butter has melted add onion, carrot and celery and stir to coat. Stir in garlic and mushrooms. Cook for 5-10 mins over medium heat until vegetables have softened but not browned. Set aside in a bowl.
2. Turn heat to medium-high, add mince to pan and press down with a wooden spoon breaking up any lumps as you go. Cook until brown.  Add tomato paste to pan and stir. Add passata, bay leaves, oregano, salt and pepper and add cooked vegetables.  Stir and bring to the boil. Turn heat down to very low, cover and leave for 30-60 minutes depending on how much time you have. It will be nice in 30 mins, but better in 1 hr.
N.B. Check from time to time if you need a little water. Some water to rinse out the passata bottle makes good use of any passata left in the bottle.
Lasagne Sheets
I have found a brand of dried sheets at my local green grocer that I love so much that I don't mind cooking them in salted, rolling-boiling water for 8 minutes. It is a bit fiddly getting them out in one piece and not stuck together though, so if you are at all doubtful or in more of a rush, use fresh sheets, or at a pinch, use instant.
For instant sheets make sure your bolognese sauce is 'watery' enough to wet the sheets so they don't dry out. For fresh lasagne sheets, or dried, which you pre-cook, your bolognese sauce can be quite thick.
Cheese Sauce
1. Melt butter in a small sauce pan, add flour and stir continuously until it forms a paste. Cook for one minute while stirring.
2. Remove pan from the heat and add a splash of milk and stir, it will absorb quickly. Add a bigger splash and stir until incorporated. Add the rest of the milk and stir well, place back on the heat and cook for 5 minutes or until thickened. It will thicken more on cooling and with the addition of the cheese.
3. Add nutmeg and all of the cheddar and mozzarella and just half of the parmesan (Reserve the other half for sprinkling on top) and stir until starting to melt. Remove from heat and leave until required for assembly.
Assembly
Preheat oven to 180 C (350 F)

1. Grease 33 x 23cm baking dish with butter or olive oil to prevent the lasagne sticking to the dish and help you wash up later. Spread 1 cup of bolognese sauce evenly over the base of the dish. Place lasagne sheets evenly over the base. They can sit side by side or overlap slightly. You can break or trim the pieces to fit your dish.
2. Spread 1/2 cup cheese sauce evenly over the lasagne sheets. Top with 1-2 cups bolognese sauce, spread evenly.
3. Place another layer of lasagne sheets, then cheese sauce, then bolognese sauce. Repeat this order until bolognese sauce is used up. Be sparing with the cheese sauce as you want the last layer to be lasagne sheets then a thick layer of cheese sauce and then a sprinkling of parmesan (the half left over from before).
Bake for 30 minutes or until bubbling and top is golden brown. Rotate lasagne in oven if one side is getting brown before the other.
N.B. Australian standard measurements are used: 1 tsp = 5mL, 1tbsp = 20mL
Wine: I often cook this dish with red wine if we are having some for dinner, but didn't for this one. If you want, you can add 1/2 cup (125mL) once the mince is browned and let the alcohol cook off for a minute or two.
Bacon: Bacon or pancetta is also usually a staple in my lasagne, but this time I had a lot of vegetables in the fridge I wanted to use and no bacon and it was a nice alternative. If you want, try 3-4 rashers, diced, and add in with celery/onion/carrots.