The biggest challenge with having an African dinner party was which region's cuisine to choose, so we didn't! We just left it quite open and this is what we ended up with…


Clockwise: In the large white square dish is doro wat chicken, injera bread, bobotie, rice, bulgar salad, tomato salad.
Coriander Bread (Pain Nord Africain au Coriandre) Recipe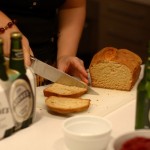 2 packages active dry yeast
1 1/2 cups lukewarm milk (scalded, then cooled)
1/2 cup honey
1/2 cup butter or margarine, melted and cooled
1 tablespoon ground coriander
1 tablespoon grated orange peel
1 teaspoon salt
1/2 teaspoon ground ginger
1/4 teaspoon ground cinnamon
1 egg
1 1/2 cups whole wheat flour
4 to 4 1/2 cups all-purpose flour
Dissolve yeast in warm milk in large bowl. Stir in remaining ingredients except all-purpose flour. Stir in enough all-purpose flour to make dough easy to handle. Turn dough onto lightly floured surface; knead until smooth and elastic, 5 to 10 minutes.
Place in greased bowl; turn greased side up. Cover; let rise until double, about 1 hour. Dough is ready if indentation remains when touched.
Punch dough down; divide into halves. Shape each half into an 8-inch long loaf. Place loaves into two greased 9 x 5-inch loaf pans. Cover; let rise until double — 40 to 45 minutes.
Preheat oven to 190 C or 375 F.
Cut lengthwise slash in top of each loaf. Bake until loaves are golden brown and sound hollow when tapped — 35 to 40 minutes; remove from pans. Cool on wire racks.
Egyptian beetroot dip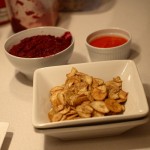 serves: 4
ready in: 1 hour (15 mins Prep – 40 mins Cook)
Serve this beautifully vibrant dip with chargrilled pita toasts for a casual start to a barbecue, or use it as a scrumptious sandwich filler.
ingredients
5 red beetroot (1 kg)
1¼ cups (325 g) plain low-fat yoghurt
2 garlic cloves, crushed
¼ cup (60ml) lemon juice
2 tablespoons extra virgin olive oil
½ teaspoon ground cumin
½ teaspoon ground coriander
½ teaspoon ground cinnamon
½ teaspoon paprika
pepper to taste
preparation method
Cut off the beetroot stems 1 cm from the roots (no closer). Scrub the roots very gently but thoroughly, being careful not to nick the skin.
Cook the beetroot in a large pot of simmering, salted water for 40–60 minutes until tender. Drain. Allow to cool slightly. When cool enough to handle, cool slightly and rub off the skins. It is a good idea to wear rubber gloves when doing this to prevent your hands from becoming stained.
Finely chop, grate or process the beetroot in a food processor, then transfer the flesh to a serving bowl.
Add the yoghurt, garlic, lemon juice, oil, cumin, coriander, cinnamon and paprika to the beetroot and mix well. Season to taste with pepper. Cover with plastic wrap and refrigerate until required. Serve with warm crusty bread.
Kosayi (African Dipping Sauce)
500g or 9 Baby red capsicums
90g or 3 long red hot chillies
30g or 7 small red hot or habanera* chillies
2 tbsp vegetable oil
75g sugar
75 ml white vinegar
1 tsp salt
Olive oil
*If replacing the 7 small hot chillies (with habanera chillies) you must remove the seeds and veins before blanching them in boiling
Method
A good kosayi should be not too hot, you can just feel the heat. The mixture will keep for about 6 months in the refrigerator – the older it gets the better it tastes.
Place the chillies and the whole capsicums in a large pot of cold water and bring to the boil.
Simmer for 25 min or until soft. Cover, turn off the heat and set aside to cool.
Drain and seed both chilli and capsicum, then peel the capsicum. Place in a food processor and blend to a creamy paste.
Press mixture through a fine strainer to remove any remaining skin.
Stir in sugar, oil, salt and white vinegar then place in a jar and allow at least 2 days to mature.
bobotie


1 kg beef mince
1 large brown onion, chopped
2 cloves garlic, chopped
2 tsp ginger, grated or chopped
2 slices white bread
1 tbs jam
2 tbs chutney (Mrs Ball's is the authentic safe chutney)
3 eggs
1 1/2 cups milk
1 1/2 tbs vinegar (I used apple cider vinegar)
1/2 cup raisins (variation is 1/4 cup raisins + 1/4 cup grated apple)
1 tsp turmeric
1/2 tsp ground pepper
1 tsp ground cloves
1 tbs curry powder (Indian spice mix)
2-4 bay leaves (fresh or dry doesn't matter!)
Preheat oven to 180 degrees.
Oil in pan, saute onions, ginger and garlic and remove from pan.
Saute curry powder in oil to develop flavour then add mince. Cook mince until brown and crumbly, remove from heat.
Soak bread in milk, squeeze dry and shred.  Add to mince along with onion mix.
Add salt, pepper, tumeric, cloves, vinegar, raisins, jam and chutney and mix through.
Place in baking dish, press down and top with bay leaves.
Bake for about 50 minutes @ 180 degrees. After 30 min in the oven, beat the egg and milk together and carefully pour over mince in the dish, return to oven.
Remove from oven when topping is cooked (may not need the extra 20 minutes).
rice
2 cups white rice
1 tsp cinnamon
1 tsp salt
2 tsp tumeric
1 tsp sugar
1 tbs margarine
1/2 cup raisins
Boil saucepan of water. Add all ingredients except raisins to boiling water and top up water as required during cooking. About 5 min before rice is cooked, add raisins and simmer until rice is tender. Drain and serve!
chef kurt linsi's queen of sheba salad


700g          ripe tomatoes, cut into small wedges with seeds removed. Nicole used 'kumatoes'.
1                   red onion, finely chopped.
1                   clove garlic, finely chopped
1                   small red chilli, finely chopped
1/2 cup      tomato sauce or ketchup
Few drops tabasco sauce
1 tbsp          vinegar
1/4 cup      olive oil
1/4 cup      medium dry sherry
1/2 tsp       worcestershire sauce
1/2 tsp       salt
grind of     black pepper
In a bowl Combine salad ingredients. Combine sauce ingredients. Marinate the tomato mixture in the sauce. Serve in sauce dishes without lettuce or drain well and place in the center of the Injera bread.
bulgar salad


225g (8 oz) bulgur wheat
285mL (1/2 pint) boiling water
4 tbsp olive oil
3 tbsp lemon juice
2 tbsp chopped fresh mint
3 tbsp chopped fresh coriander
salt
pepper
1 red capsicum, grilled, peeled and sliced
1 bunch of plump spring onions, chopped
2 garlic cloves, chopped
1/2 cucumber, coarsely chopped
115 g (4 oz) feta cheese, crumbled
lime wedges, to serve
oil-cured black olives, optional
Place the bulgur wheat in a large bowl, add the boiling water and leave to soak for 30 minutes, stirring occasionally with a fork, until the water has been absorbed. In a mixing bowl, whisk together the oil, lemon juice and seasoning. Pour oil mixture over the bulgur wheat, add the herbs and mix well. Then mix in the remaining ingredients. Cover and chill until required. Serve garnished with lime wedges.
doro wat chicken


Feeds 10-20
Wat
1 whole chicken, plus an extra couple of chicken breasts or thighs
3 lemons
500ml of white vinegar
5 kg brown onions
50g finely ground cardamom seeds
100ml olive oil
100ml Nit'r Qibe (spiced clarified butter)
6 tbsp berbere spice mix (chilli powder)
4 tbsp tomato paste
Mixed spice
2 tbsp cardamom seeds
2 tbsp nigella seeds
2 tbsp ajwain (or fennel seeds)
1 tbsp African basil leaves, seed and leaves
2 tsp black pepper corns
3 tbsp salt
2 tbsp ground black pepper
12 hard boiled eggs
Remove the skin completely from the chicken and cut into 21 portions. (This is the traditional Ethiopian way.) Any excess blood or fat on the chicken needs to be removed, as it will affect the flavour of the sauce. After the chicken has been cleaned, soak it in the vinegar and some wedges of lemon in a non metallic bowl.
Finely dice the onions and place them in a large pot with the lid on over a medium heat. Do not add oil or liquid. Cook the onions until they have reduced by at least half. This process usually takes about an hour.
Once the onions have reduced, add the olive oil cook for 30 mins. Then add the spiced ghee (nit'r qibe) and berbere and stir into the mixture. Add the 21 portions of chicken. Bring the mixture to the boil, then reduce the temperature and allow the chicken to cook through, making sure the onions do not stick to the bottom of the pot.
Grind together the mixed spice ingredients and once the chicken is partially cooked, add the mixed spice and stir through. Add salt. Allow the mixture to simmer slowly and stir occasionally.
While the mixture is cooking, prepare the eggs. Bring water to the boil, add salt and hard-boil the eggs. Once cooked, peel the eggs and allow to cool.
Cut vertical groves into the eggs to ensure flavour seeps in. Spoon out some of the excess oil that settles on top of the mixture. Add the eggs when you are about to turn off the heat.
This is better the next day and even better the day after that. Just make sure you reheat thoroughly.
N.B. A berbere spice mix is available from Herbie's spice shop in Rozelle and it includes many of the spices mentioned in the 'mixed spice' section of the recipe and not so much chilli, so I used 6 tablespoons of Herbie's berbere mix and added the tomato paste to round out the flavour and add a redder colour as it was bit dull brown and too clovey. The heat seems to come more from the pepper than the chilli so add some more chilli if your spice mix is not hot and you like spicy food.
Serve with Injera bread. Here is the recipe for it below…
injera bread
makes 8-10
1 cup amaranth flour (available at health food shops, you could also try buckwheat or wholemeal for a nutty flavour)
2 cups plain flour
3 cups water
pinch salt
Mix flours with water until smooth in a bowl, cover.  Leave to sit for 2-3 days (even overnight will do if you don't have time, it just won't be as sour) until it starts to bubble. During this time you can mix it a few times with a spoon but otherwise just leave it covered. You want crepe batter consistency so if too thin you can pour off some of the liquid that has risen to the top before you mix and cook the batter.
Stir in the salt. Heat a large frypan until when a few drops of water are added the water dances on the surface and evaporates. Quickly wipe the surface of the pan with a paper towel dipped in oil. Add a ladle of the mixture and cook slowly until air bubbles rise to the top. Do not let it brown, and make sure that it is not too thick. You can tip the pan so that excess batter runs to the edges. Do not turn over, only one side gets cooked, just wait until it is cooked through then slide off to a large plate. Repeat until the batter is used up.
Cover with clingfilm once cooled until ready to serve. You can cover the plate with one injera and use it to mop up sauce, by breaking off a piece with your fingers and any extra injera can be rolled up into a 'cigar' and cut in half and used to dip into sauces.
m'hanncha (the snake) with caramelised fig


* 150g chopped almonds
* 75g granulated (raw) sugar
* 1 tablespoon butter, melted
* 2 teaspoons orange flower water
* 1 teaspoon ground cinnamon
* 8 sheets filo pastry
* 40g butter
* 1 teaspoon ground cinnamon
* 1/2 cup icing sugar
* 8 fresh figs
* 4 tablespoons brown sugar
Put the sugar, butter, orange flower water, almonds and cinnamon in a blender and blend until smooth.
Divide the mixture into 8 equal portions and place each lengthways down the side of one piece of filo pastry. Roll the pastry around the mixture. The finished thing should resemble a sausage shape.
Coil it into a kind of snail's shell then set aside and cover with a damp tea towel. Repeat this with all 8 pieces.
Heat the butter in a large pan and then fry the pastries until they are browned on both sides.
Sprinkle the pastries with cinnamon and icing sugar and serve. They can be left to cool if you wish to eat them cold.
Figs: Depending on the quality of the figs, they can be sliced or quartered and eaten fresh if very juicy or if a little dry then cut in half from top to bottom, lay cut side up on a baking tray lined with baking paper and sprinkle with brown sugar. Bake in a 180C oven for 5-10 minutes until the tops start to caramelise. Keep an eye on them as they burn quickly.
A dollop of thick sweetened yoghurt flavoured with a little cinnamon and honey would be a delicious addition.
Wine

We had a couple of bottles of South African red wine, called Pinotage, which were so different to each other you would have sworn they were different types of grapes.  Nice to try though.