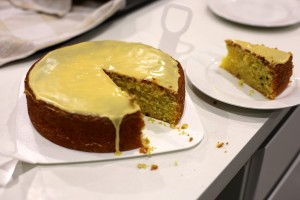 I have become obsessed with this cake, after testing it for the CWA challenge at work. It is a delicious and moist cake with the refreshing flavour of passionfruit to lighten it up. I have made a few changes to make it my own as the original had a tendency to crack. I bake mine at a lower temperature for longer which helps it not to crack as much, it still cracks a little, but settles back to almost flat with just a gentle dome. I've also cut the raising agent by replacing some of the self raising flour with plain flour.
Passionfruit Cake
(adapted from a CWA recipe)
Cake
250g butter, softened
220g (1 cup) caster sugar
3 eggs (room temperature), separated
200g self raising flour
100g plain flour
180ml (3/4 cup) buttermilk
1/4 cup passionfruit pulp
Passionfruit icing
1 cup icing sugar, sifted
1 teaspoon full cream milk
1 to 1 ½ tablespoons sieved passion fruit pulp
Pre heat oven to 160C conventional. Grease a 20cm aluminium round cake pan with softened butter, line the base with a round of greased baking paper. Dust base and sides lightly with flour and firmly tap out any excess flour.
Beat butter and sugar in the bowl of an electric mixer with a scraper paddle until light and fluffy, this can take 5-8 minutes. Beat in egg yolks, one at a time until combined.
Add passionfruit pulp to buttermilk, combine sifted flours in a bowl. On low speed, add buttermilk and flour alternately to mixer bowl until just combined.
Beat egg whites with a whisk until soft peaks form. Fold into cake mixture with a large kitchen spoon or spatula in two batches.
Spread mixture into prepared pan, level the top and tap firmly on the bench. Bake in oven for 1 hour to 1 hour 20 or until cooked in the centre and golden on top. Stand for 5-10 minutes before turning onto a clean tea towel on a baking tray. Remove baking paper from base of cake if it has come out of the tin. Leave upside down to cool for 10 minutes if you want a flattish top. To invert, place a serving plate or baking tray on the cake and use the baking tray to support the cake. Hold together and carefully flip so the serving plate is on the bottom.
For passionfruit icing, stir icing sugar, milk and enough passion fruit pulp to form a thick icing. Keep bowl of icing covered with cling wrap until ready to use so it doesn't form a skin.
Once cake has cooled, ice top with passionfruit icing. You can ice while warm but the icing will run down the sides of the cake.
N.B.
If you don't have buttermilk you can replace it with 140ml full cream milk mixed with 2 tablespoons natural yoghurt
This cake is really good straight out of the oven, and it looks quite pretty when the icing runs down the sides 🙂