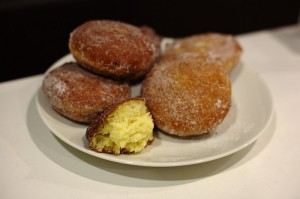 A weakness of mine is a trip to Haberfield for cheese, salami, prosciutto, olives, passata, Italian bread – that's the official list; and then there's those few items that always seem to make their way into my bag, sometimes for sharing, sometimes not. Custard filled doughnuts, amaretto-soaked cherry-filled almond biscotti from Sulfaro, cheesecake from Pasticceria Papa… but the doughnut has to be my favourite.
That's why I was so excited to find a feature on doughnuts in my newly favourite magazine, Feast. Love the food features and the background stories. There's so much info, it seems like a bargain. I had to try their version of custard doughnuts, Bola de Berlim, from Portugal, but I've twisted it slightly. The dough I've made the same as the recipe but for the creme patissiere I used Stephanie Alexander's version which uses cornflour instead of plain flour, and I used tonka bean instead of vanilla bean for something different. Yum. You can buy tonka beans at Herbie's Spices in Rozelle. Credit goes to Olivia Andrews and Jerrie Redman-Lloyd for a flawless recipe that's easy to follow.
This seems dangerous, to be able to make doughnuts on a whim. 🙂
I'm off to Marrickville organic markets tomorrow to check them out. Maybe I can ease my conscience with some nice fresh produce.