Watching an advertisement for Criniti's while at the movies didn't make me want to eat there. However, somehow I developed a raging appetite at the hairdresser after many hours of being analysed, foiled, washed, rinsed, treated, massaged, cut, heat protected, blow dried and styled. My hairdresser mentioned a great meal she'd eaten at Criniti's about a week ago- lots of fresh seafood, a garlicky tomato sauce and bread for dipping. Then her assistant piped in about the 1m long pizza. I was sold, the greedy beast had won. There would be no healthy Friday night salad, who am I kidding, when do I ever feel like salad on a Friday night?
So we went to Criniti's Parramatta last night. Called to book at 6:15pm and got a table for 8:30pm. Not a worry, had a bottle of McLeish Estate Cabernet Sauvignon Merlot (wedding research) and some washed rind and blue vein cheese at home which was a nice way to spend the time. We found a free parking spot down the road on George St and got there five minutes early and had to wait a few minutes until the table was ready, but were quite happy with this as there were people queuing up outside.


Once we were seated we soaked up the buzzy vibe of Parramatta on a Friday night. Unsure of serving sizes, I went for an entree size of the Zuppa di Pesce, a thick seafood 'soup' of large scampi, prawns, vongole, scallops, crab and calamari in a rich tomato sauce with two slices of fresh white bread on the side. This is definitely not first date food. I am a big fan of seafood served in the shell, and have no problem getting in there with fingers, teeth, whatever, to get at the luscious tender meat, but others may think this too messy for eating out. I was worried about splashing tomato sauce on my new scarf so had to make a bib of my napkin. Sounds attractive no? A Chinotto was perfect with the food.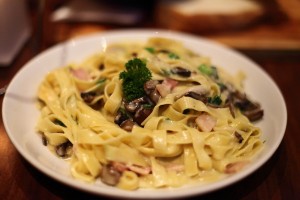 Dave had Fettucine Boscaiola, also entree size.  It was tastier than your average Boscaiola, but not bursting with flavour. A nice, comforting, creamy dish if that's what you're in the mood for. It didn't leave much room for pizza to follow so we had leftovers for lunch the next day.


I'm looking forward to trying the gelato for dessert next time, and am thinking this is the best pizza crust I've found west of Haberfield. A crisp but tender thin base with a little extra thickness at the edge and the distinct aroma of the woodfired oven. Addictive.
Recently, Crust Parramatta has been getting regular business from me, and now their only edge over Criniti's pizza is that they deliver!
Criniti's Parramatta
291 Church St, Parramatta
9635 0311