This crispy pork mince stir fry is very loosely based on the Thai dish Pad Kra Pao, but now I have kids I tone it down a bit. I'm not cooking multiple meals if I don't have to! They love this one…so delicious…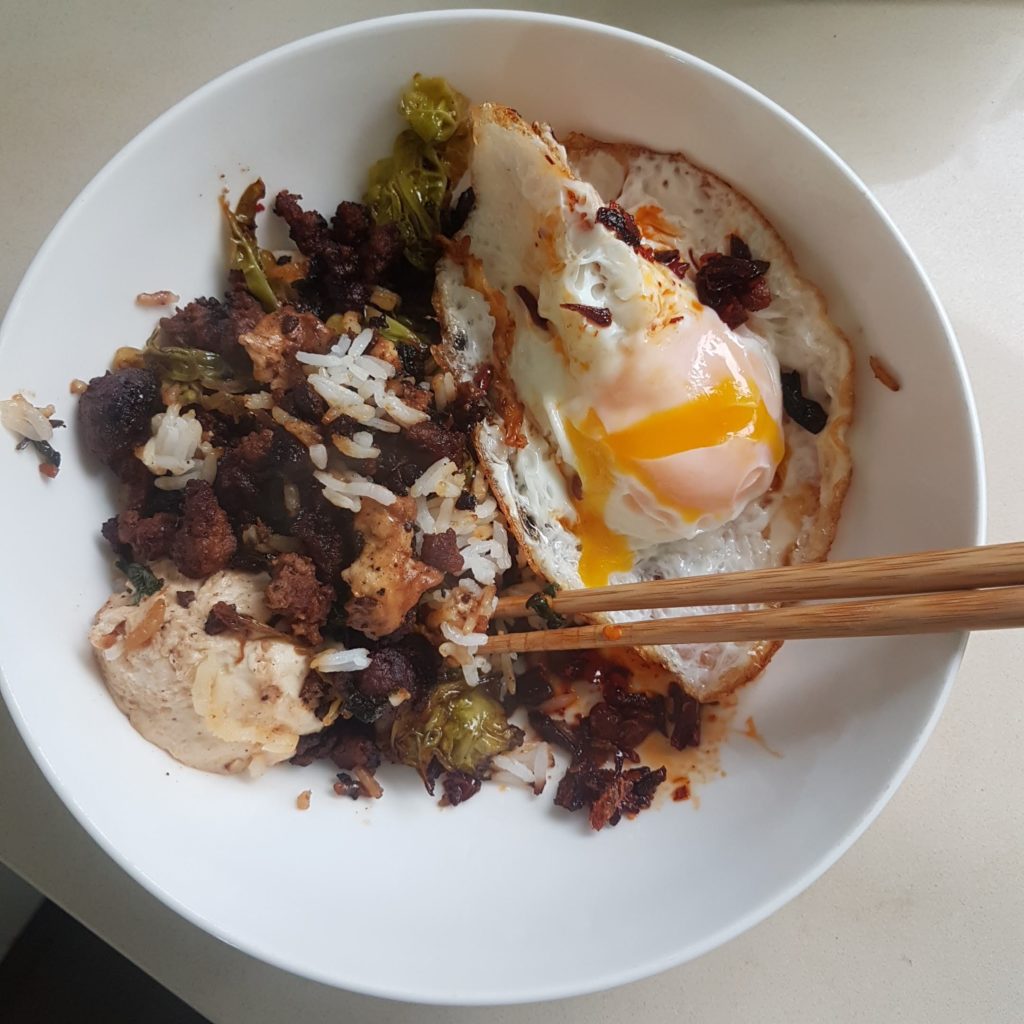 1 tablespoon vegetable oil (you can use less if you like)
6 cloves garlic, chopped
1/2-1 large red chilli (or more if you want it more authentic)
500g pork mince
1 packet silken tofu 250g ish
1-2 tablespoons fish sauce
2-3 tablespoons kecap manis
1/2 green Savoy cabbage, sliced (use any veg, wombok is great, red capsicum etc)
Fresh lime juice or lemon juice
1 bunch Thai basil, or coriander, to serve
Fried egg, jasmine rice, crispy chilli sauce to serve, optional
Heat a wok until very hot, add vegetable oil, swirl to coat, add garlic and chilli (these days it is only 1/2-1…it used to be 2-3) and stir for a few seconds only as it will burn quickly, then add pork mince all at once. I use 500g and it feeds 4 of us plus some leftover for lunch the next day. Stir a little to avoid sticking then leave it to brown a bit. Then break up with a wooden spoon. I like a flat-edged one, it is better for scraping. It needs to be hot enough so it doesn't stew…it should be on the hottest burner.
If you can, get pork mince with some fat in it, from a butcher, it will taste much better and cook better too. Beware supermarket mince that looks like worms, I always find that turns out dry.
While mince is cooking bring a small saucepan of water to the boil, add 1/2 teaspoon salt and use a large spoon to slide tofu into water. Careful not to splash yourself. Turn off heat and leave to warm through while mince cooks.
Once the mince has lost its pink colour, add fish sauce, stir until it evaporates, then add kecap manis and cook until deeply golden brown. If it goes extra crispy that is extra delicious. Add cabbage or whatever veg you have on hand and stir through until just starting to soften but still green and a bit crisp. If you have a lot of veg you can put a lid on and let it steam for 30 seconds to a minute. If you add a lot of veg you'll probably need to add extra fish sauce and kecap manis.
Remove tofu from water with a slotted spoon to a bowl or the wok.
Taste, check seasoning, add lime or lemon and adjust salt/fish sauce/kecap manis as desired. Plunge herbs in a bowl of water to clean thoroughly, then shake off and roughly chop, stir through stir fry at last minute off the heat. Serve with jasmine rice and silken tofu.