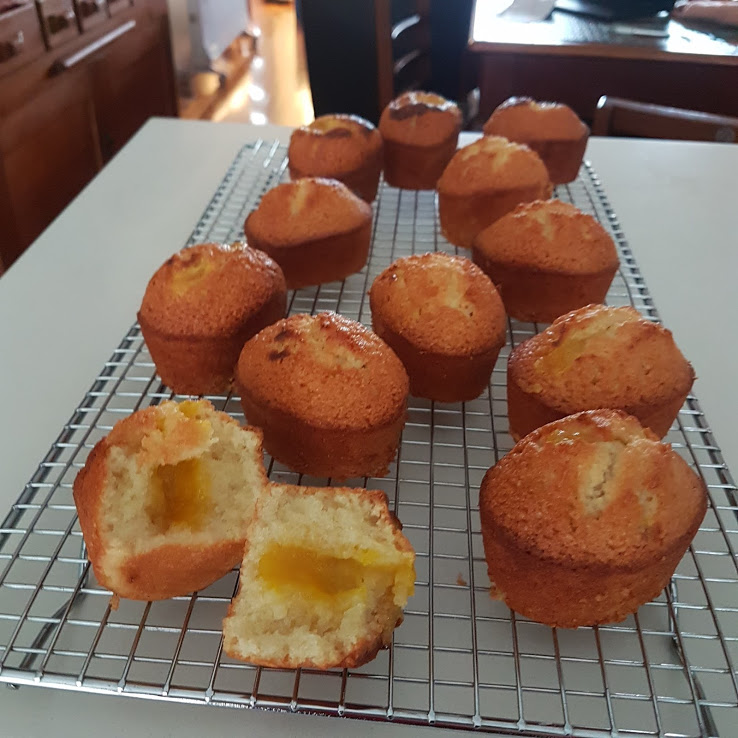 Chewy on the outside, tender in the middle. These delicious friands are best served warm straight out of the oven, but will keep for several days…
Ingredients
180g salted butter, plus extra to grease
6 egg whites
240g pure icing sugar, sifted
120g almond meal (finely ground almonds)
75g plain flour
1 teaspoon finely grated lemon zest
80g lemon curd
Method
Preheat oven to 200C (not fan forced). if you only have fan-forced as an option, set it to 180C fan forced)
Melt butter in a small saucepan, you can let it go a little bit brown, it will add a nice nutty flavour. Don't let it burn though.
In a large bowl add egg whites and stir in sugar. Add melted butter in a thin stream whisking as you mix. Add almond meal, flour and lemon zest.
Grease a 12 hole friand tin (oval shaped), or muffin tin with extra melted butter and divide mixture evenly between holes. Mixture will be runny. Drop one teaspoon lemon curd into the centre of each friand.
Bake for 25 minutes, friands will be deeply golden. Use a butter knife of palette knife to run around the edge of each friand and remove gently to a cooling rack. Serve warm.
Tips
Icing sugar goes hard over time, buy fresh icing sugar to make sieving easy. Or give yourself extra time to sieve old lumpy icing sugar!
Almond meal goes rancid over time so store in the fridge or freezer and use within the best before date
References
I have been making these for years, but think I got the original quantities from the Australian Women's Weekly website.