Thomas Walter and Malini Christine Ganesan celebrated their wedding in February this year at the delicious Sardinian restaurant Pilu at Freshwater in Sydney. I was lucky enough to be asked if I could make the cake…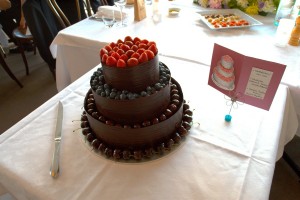 The layers are (from top to bottom)
Fruit Cake 6″
Chocolate Buttermilk Cake 9″
Hazelnut Raspberry Cake 12″
All layers are covered in Chocolate Ganache and have a dark chocolate collar, fresh strawberries, blueberries and cherries.
The guests ate the bottom two layers at the wedding, and they finished both layers! That was after dessert…
Hazelnut Raspberry Cake
Made again for Thomas' 40th birthday party in June. We enjoyed it with an espresso or two, made on a machine borrowed from their good friend Peter.
*Recipe from the Australian Women's Weekly Website.
Fruitcake
The top layer of fruit cake travelled back to Ulm in Germany and was not touched until my visit in June. What a surprise they had waited. It was perfect for eating by then.
*Recipe from Belinda Jeffery's luscious book 'Mix and Bake'.