It's a gorgeous morning to be catching up with friends and a good coffee is all I want, with something tasty to eat a bonus. We are all happy to go to the usual place at the beach but one dissenter craves something new. You can't say no to that so I look up the opening hours for Allpress and Campos- both closed on Sundays. Then my sister reminds me about Bourke St Bakery, how could I forget, we did a fantastic sourdough bread making course here last year as part of good food month. It was so popular that it was already booked out the day after Good Living had released the hands on courses for good food month. Luckily they put on an extra course for those of us a bit slow to decide which course to choose!
So to the Alexandria shop we go, on Gardeners Rd. It's Sunday morning at about 10:30am and I'm expecting a queue, so am surprised to find half of the large wooden communal table free. Perhaps it's the long weekend, or that it is beautiful weather and everyone's at the beach, or maybe I'm just used to the tight squeeze at the Crown St shop, but in any case it is nice to have time for a leisurely chat and breakfast before the next lot crowd in around the counter.


Crisp buttery croissants with jam and ricotta, pan au chocolat, rhubard danish and currant studded snails… it's too hard to choose. The ham and cheese croissants have sold out already so pain au chocolat it is. The filling is nice and moist and makes me wish I'd bought two.
Our coffees arrive and my cappucino is full flavoured but still smooth and creamy. I could have another, but instead I try a sip of my friend's bottle of Bourke St Bakery's homemade lemonade from the self service fridge. It is tart, refreshing and delicious. I buy a large bottle of my own along with two slices of pizza to take home: mushroom on one and pancetta, peppers, chilli and ricotta on the other. Ten minutes in the oven at home and they make a satisfying lunch.
Could still squeeze in another pain au chocolat though.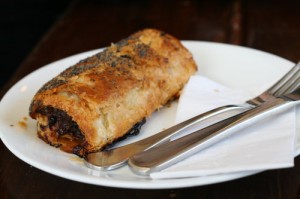 Lamb, Harissa & Almond Sausage Roll

View Larger Map