I got a call on my mobile about a week ago asking about the food and service we had at The Meat & Wine Co. on the Friday night before I flew out to Thailand the next morning. Unknown to the caller was the fact that it was 3 am in the morning in a little town called Longcrendon near Oxford in the UK. It may have been expensive feedback for them but I think I was coherent at least, being still somewhat jet lagged.
We wanted to have a nice meal in the Parramatta area and though not cheap we have had consistently good food and professional service and were not disappointed this time either. What is lacking in cosiness is made up for in the quality of the meat, which is flavoursome and decently cooked. I like the crunchy fat cut chips and the basting they use on the meat. It is not too much, just a bit of sweetness that hits the spot.
We haven't managed to stay for dessert yet as the servings are generous and are unusual in that you get quality and quantity. I had the New York Sirloin 300g medium with mushroom sauce and chips and my partner had the Prime cut also 300g but medium rare with mushrooms, wilted spinach and chat potatoes. We were both happy. The side dish of vegetables (bok choy, cauliflower and squash) was possibly too much for 2 people as the steak also come with chips and a small homemade coleslaw that bears no relation to the KFC version. It was fresh, perfectly dressed and moreish. A wonderful complement to the steak and better than a few wilted lettuce leaves and an unripe wedge of tomato.
Booking is a good idea, as the strip of restaurants on this street that houses the Riverside Theatre next door and crosses the Parramatta River is always a popular location. Parking can be a bit hard so parking a few streets away might be the closest you get. We booked for an early dinner and got lucky with a parking spot just across the road that was metered parking, but sometimes you just don't mind.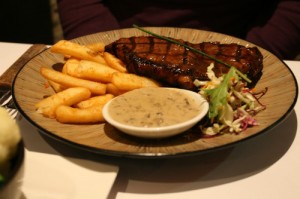 View Larger Map