At The Spot in Randwick, opposite Arthurs' Pizza is a small Turkish restaurant serving delicious fresh food at very reasonable prices. It was one of the few places in the area open on Christmas eve so we booked and hoped for the best. Warm and relaxed service is perfect for this cosy restaurant and is a nice change from the proliferation of Thai food in Randwick (as good as it is!).


Chunks of Turkish bread, drizzled lightly with olive oil and baked until hot and crisp on the outside but still tender and moist in the middle. Perfect for mopping up the four dips that we have ordered, there are seven to choose from, but why choose?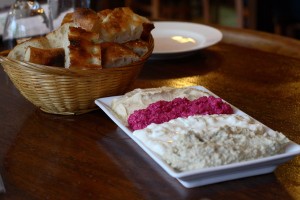 Hummous, Beetroot dip, Jajik, Babbaganoush


Zucchini fritters drizzled with yoghurt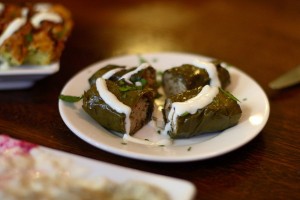 Dolmades, these little rice filled vine leaves are yummy


The Lamb Pide (pea-deh) is my favourite, the flavours are clean and moreish. We have it without cheese, and add mushroom to it.


This one is called the Spot Special and came with the recommendation that 'everyone orders it', but although tasty I found there to be too much going on and I didn't like it as much as the Lamb.
The lone piece of rose and almond Turkish delight didn't last long enough to be photographed. 🙂