The Eveleigh Market Saturday 13th December 8am-1pm
243 Wilson St, Eveleigh
Next market is in February 2009.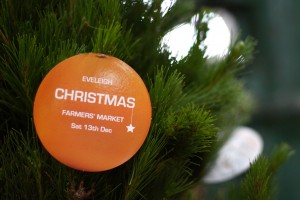 This was a wonderful market held yesterday, in an open-sided but undercover hanger on a true Sydney summer day-humid, hot and windy. The restrooms inside the old carraige works just opposite provided a moment of coolness before the hunt began.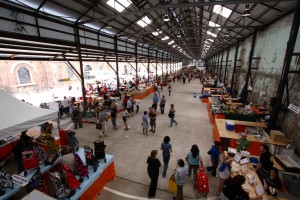 Highlights were cherry jam from Bird Cow Fish, goat's cheese from Jannei Dairy, eggplant, zucchini flowers, apples and less common herbs from organic suppliers. Bread from Iggy's, Olive oil from Alto and brunch from Eumundi Smokehouse: Bacon and egg roll with homemade BBQ sauce, and a chorizo roll with tomato and basil salsa. I didn't eat both, three of us shared them, but I could have easily scoffed them myself.
My sister was searching for the perfect Kris Kringle present for $15 and bought the last jar of cherry jam from Bird Cow Fish ($10 but it is a large jar) and then topped up the gift with a jar of Apricot jam from Rowan Farm for $5, so mission completed on budget! The cheeky little bugger even managed to find some bread for her supper after everyone had sold out as the guys at Jannei took pity on her puppy eyes and sold her their second last loaf used for tastings for a token $2. Always the negotiator 🙂


Marinated creamy goat's fetta at Jannei Dairy. I have been missing their presence at the Good Living Grower's Markets- bring them back please!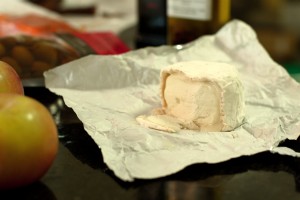 Went home with a small white mould cheese, similar to Camembert, called 'Miette'. Perfectly ripe for sale, the edge was devoured and it is already developing a creamy oozy layer but is still a little chalky in the middle so I'll leave it for another day or two.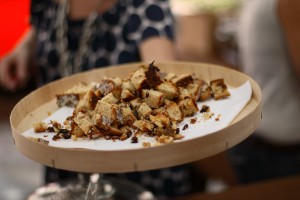 Fruity, buttery Stöllen from Pastisse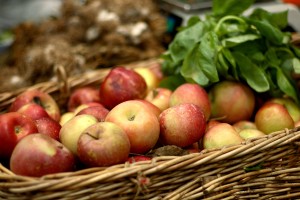 Organic Fuji apples, basil and garlic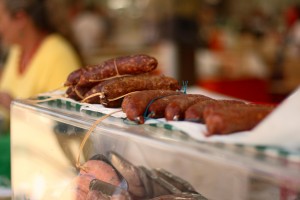 Eumundi Smokehouse chorizo. I bought some of the small spicy 'beer sticks' as owner David calls them, you really need one to handle the heat and delicious intensity.
Nice review here of Eumundi: http://www.notquitenigella.com/2007/12/27/eumundi-smokehouse-at-dulwich-hill/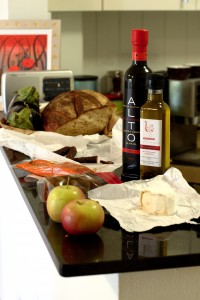 Delicious olive oil and marinated olives from Alto, with the Robust premium a favourite. Got talked into getting the large bottle very easily 'are you sure you don't want the larger bottle?' No, I'm not, how silly of me, of course it is better value 😉 I am quite happy to be persuaded.
Another delicious oil is the Pepperberry and Salt Bush olive oil by the Yaama Dhiyaan Cafe, also a lovely place for breakfast located just next to the markets on Wilson St.
Crusty sourdough, a quarter is plenty for us and costs just $3.25 from Iggy's Bread (49 Belgrave St, Bronte. Corner of Murray St)
Can't wait for the regular market next year…
http://www.eveleighmarket.com.au/

View Larger Map