The 2008 Young Chefs' Dinner hosted by the Sydney Morning Herald as part of Good Food Month was held in October at Coast Restaurant at Cockle Bay Wharf, Darling Harbour.
A few old uni friends decided to check it out…


Below are a few photos of the event, which are not brilliant but at least they'll give you an idea of what was served.
Coast Restaurant Sommelier Brendon February recommended a few wines, and I tried the 2007 Farnese 'Casale Vecchio' Pecorino 'Terre di Chieti' IGT, Abruzzo, which was light, grassy and perfect with the tomato and yabby appetiser below.
Yabbies and tomato on toast. Josh Davidson, Coast Restaurant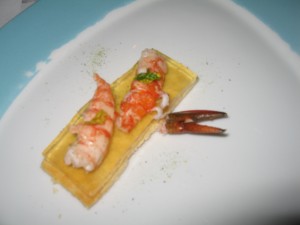 The flesh of the yabbie tasted fresh and sweet which worked well with the sweet/savoury combination of the tomato jelly which was cleansing on the palate and then the textural crumbliness of the pastry underneath gave a robustness to this light appetiser.
Macadamia, wattleseed, lemon myrtle, red rice. James Parry, Oscillate Wildly (Winner of the Young Chef Award 2008)


This dish played with texture and the diner's expectation. The creamy macadamia 'mousse' was savoury as were the 'toffee shards' and the red rice jelly.
Breast of Burrawong Farm quail, ham hock and quail leg terrine, beetroot syrup, lemon-scented celeriac puree. Michael Urquhart, No2 Oak Street Bellingen


The terrine was delicious, the puree was tasty, but the quail was a little too simple. I can see that the chef was wanting the true flavour of the bird to shine through and didn't want to play with it too much. Great theory, but in that case the bird needs to be perfectly seasoned and perhaps with a crisp skin, or one feature that makes is interesting. It let the dish down which is a shame as the chef is obviously passionate about Australian produce.
Neck fillet of lamb, artichoke, olive paint, white bean puree, mint jelly, peas. Marc Williams, Foveaux Restaurant+Bar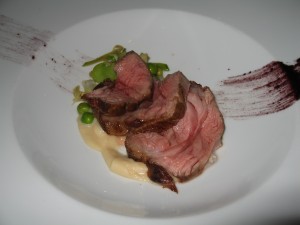 Tender, succulent lamb brushed with the mint jelly so you couldn't see it, only taste it, lovely. This was the least mentally challenging dish, and also the most enjoyable to my taste, as I could just relax and enjoy.
Osso Iraty, dates, gingerbread. Josh Davidson, Coast


A well rounded rectangle of sheeps milk cheese wrapped in a thin sticky layer of fresh dates is a wonderful parcel of sweet and savoury. Tiny beetroot leaves and slivers of crisp apple with a very light appley dressing on a not too sweet gingerbread base. This was my favourite for aesthetic appeal, flavour balance and more-ishness! Well done!
Nougat parfait, mustard citrus fruits. Luke Powell, Tetsuya's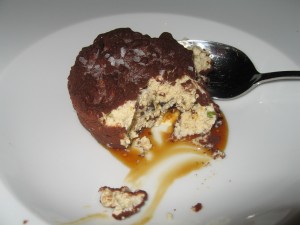 Intense, challenging, interesting. I enjoyed the mental challenge of this dish, trying to uncover all of its secrets. It was not my favourite flavour-wise as it was not balanced or cleansing, rather it is a richer dish, however it was certainly one of the most daring and for that Luke shold be commended. The serving size may have added to the richness, half the amount would have been sufficient for such a dessert.
Caramels, house made petit fours by Josh Davidson.
This was a disappointment as I love caramel in all formats, but these were oily and under-sweet. A thin sliver of dark chocolate would have been a better end to such a feast.