Always on the hunt for good takeaway options, and since a trip to Thailand last year, I've been somewhat obsessed with trying to find an authentic Thai restaurant. There are seventeen Thai restaurants listed in the 2009 good food guide, Spice I Am being one of them, and a favourite of mine when I am passing through the city. Unfortunately none of them are within a 5km radius of my place as the crow flies (that's for you Lauren).
This may also be a good time to mention the cluster of Thai grocery stores near the Capitol Theatre sometimes referred to as Thainatown. I did not make that up. One famous one is called Pontip, and if you're searching for that elusive holy basil, or pea sized bitter eggplant for your Thai curry, you'll find them here.
My favourite cheap takeaway meal is also from near here, the sandstone building on the corner of  Pitt St and Hay St in Haymarket. They sell supplies but also pre-made meals like chicken or pork larb ( a minced meat salad, heavily seasoned with lime, fish sauce, roasted rice and chilli-  for lovers of authentic Thai cuisine only), or a curry of catfish and baby eggplant. For $7- $8 each, they are a bargain. Just cook some rice at home and a few dishes will set you back around $15. Considering Thai takeaway often costs $30-$50, it is a fantastic deal. I must look a bit soft as I get warned every time 'It's spicy!'.
Anyway, so I found a decent Thai takeaway place in Parramatta and thought I'd share. There are so many and this one is my favourite so far. Let me know if you have a different one.
Saute Thai Restaurant


Thai green chicken curry– I think it's their best dish on the menu. It has a bit of heat but not too much and is really moreish.


The spring rolls are vegetarian; also nice and crunchy.


The Som Tam (green papaya salad) with soft shell crab is delicious. The som tam is nowhere near authentic, it is mild and sweet instead of hot, salty, sweet and sour in a perfect balance, however, for an 'Aussie' version, it's not bad. I  am nearly always disappointed with Australian versions of som tam, because when it is done right it is so addictive.
N.B. Make your own mind up about the massaman beef curry and the pad thai. I've had better so I tend to stick with other choices, but the stir fries are pretty good and if you want something different, the BBQ beef is really fantastic. Thinnish steaks marinated in a sweet marinade and then cooked on a char grill. It has a tender chewiness and a smoky sweetness that is so good.
Saute Thai Restaurant

18 Phillip St Parramatta
9687 0778/ 9635 7378
The first number is often busy so try the second if you can't get through in peak times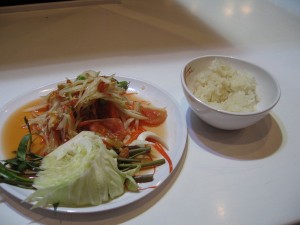 This is the real deal: Som Tam and sticky rice in a food court in Bangkok, Thailand
I still have vivid memories of eating it in a spotlessly clean food court in Bangkok, with a side of sticky rice and tears streaming down my cheeks it was so hot. But it was also so good I couldn't stop. A kindly looking man carrying a toddler stopped nearby and chuckled at this westerner chowing down on his national dish with gusto. I looked up and smiled and we had a moment. Food really is the way to the heart. I shouldn't complain so much though, I am always just happy when I see this dish on a menu, as it takes a bit more effort to prepare, and lots of restaurants won't make it as there is not always the demand for it.