I have been missing my basil plant. It was the first to go after the weather turned cold a few months ago. The sage is still going strong but even the rosemary is starting to dry up.  Looking at some photos from a few months ago I came a cross some pics of pizza that I made in my oven, topped with fresh basil. Yum.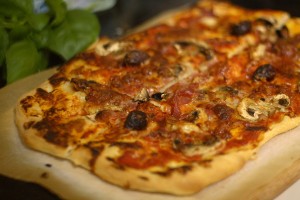 Prosciutto, mushroom and olive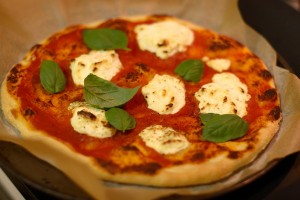 Tomato, ricotta and basil
(I would normally use mozzarella, but happened to have some very fresh ricotta in the fridge so used that instead)
Pizza Base
1 1/2 teaspoons active dried yeast
1/2 tsp caster sugar
3 cups plain white flour, or strong 'pizza/bread' flour is even better
1 tsp sea salt
2 tbsp extra virgin olive oil, plus extra
Method
1. Combine yeast and sugar in a bowl. Pour in 1/4 cup warm water, quickly stir and cover. Between 30 and 40C  (90-100F), it should feel warm but not hot or it will kill the yeast and it won't rise. Leave in a warm place for 10 minutes until the mixture is bubbling and frothy. If not, discard and repeat.
2. Put flour and salt in a large bowl and make a well in the centre. Add 1 cup warm water, yeast mixture and olive oil. Using your hands, stir until a dough forms. Turn out onto a lightly floured surface and knead for 10 minutes, adding a little extra flour if dough is sticky, until  smooth and elastic. Do not add too much extra flour or dough will be tough. Place in an oiled bowl, turning to coat in oil, then cover with plastic wrap and leave in a draught-free place for 1 hour or until doubled in size.They will sit happily for a few hours if need be.
3. Pre heat the oven to 220C (430F) and also preheat two or 3 baking trays. Divide the dough into 2 or 3 balls, depending on the size of your trays and how thin you like your pizza. Roll out and flatten on sheets of baking paper, remembering that the dough will rise considerably.
4. Spread pizza bases with passata and whatever toppings you like, a little grated mozzarella on top is always nice too. Slide baking paper sheets carefully onto hot trays and pop back quickly into the oven. Bake 15-20 minutes or until the base is cooked and the top is crisp.
N.B. If you don't roll the pizza bases out thin enough, the top will burn before the base is cooked.