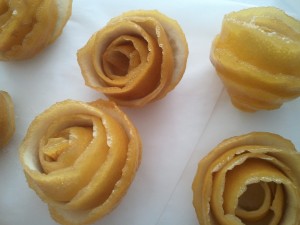 Candied lemon peel roses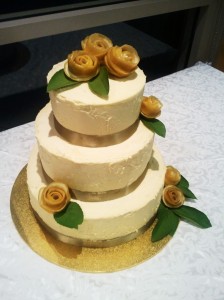 Lemon and almond syrup cake with white chocolate buttercream
There was such a delicious feast at Iain and Jules' engagement party that we didn't get through all of the cake, what a shame, we had to divvy the rest up to scoff at home.
Jules, I need recipes for the adobo pork and chicken, and the vermicelli noodles, yum!
This recipe is from Rose Levy Beranbaum's amazing book, 'Rose's Heavenly Cakes'. I picked up so many great tips from her perfectly tested and detailed recipes. Everyone loved the lemon peel roses. One small person was heard asking 'can you eat them?'. Cute. Of course you could, but mine were a little on the firm side. Next time I would try to take a little less white pith with them as I peeled them as I think they were a little stiff.