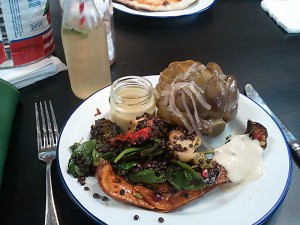 85 Dunning Ave, Rosebery
Kitchen by Mike is my newest food haunt and I love it. I've been taking everyone I can possibly grab as well, so have now been for weekday breakfast and lunch, weekend brunch, but not dinner.
The food: There's no menu, just go up to the food counter and see what's on. There's always good bread, and I mean open crumb, moist, crusty sourdough with pepe saya butter. Usually a few interesting salads and some grilled or roast vegetables. A simple pizza with a delicious crust and quiche or tart, pastries and a cake or two for dessert. Everything is served room temperature and they just keep replenishing the food during service. It reminds me of Ottolenghi in London. Lunch is reasonable and normally works out to about $15 per person, depending on what you get.
The plate above has a globe artichoke, a luxury I learnt to appreciate from my stepmother. You peel off the layers one by one, dip them into the homemade mayonnaise and scrape the flesh between your teeth. When you finally get to the heart you discard the furry choke and eat the tender heart and stalk. Also on the plate, a lentil and brussels sprouts salad, a deeply caramelised roast pumpkin wedge with spiced yoghurt. I've also tried a wonderful mushroom soup, roast chicken, margherita pizza and coleslaw.
For breakfast I've had a bacon buttie and toast with jam, my friends have had the sourdough pancakes with lemon curd, the Boston baked beans with poached eggs and the bircher muesli, all of which are good. There is a limited menu for weekday breakfast; toasted muesli and yoghurt, Bircher, toast with jam and porridge.  The weekend breakfast is where they have the most options.
The space: is a canteen in a warehouse space, so as it's getting chillier, bring something warm to wear. A colleague who came here first told me to leave time to walk around the homewares section before you eat, so that you're not so distracted by the pretty things and end up ignoring your dinner date.
The coffee: is fantastic. I'm surrounded by Campos and Allpress, Sonoma and Bourke St Bakery all of whom do good coffee so this is stiff competition people! They also have smoothies, fresh juice, iced tea and homemade lemonade that come in cute glass bottles with barber striped paper straws. If you just want coffee and a pastry don't line up in the big line, just go to the coffee counter and save yourself some time.