I've just tested a recipe for macarons. They worked perfectly first time, so need to share…
The recipe is from Ottolenghi. If you want a fabulous in depth discussion on macaron making… visit this page: http://bravetart.com/blog/MacaronMyths


Pipe the mixture onto baking trays and allow to 'skin' or set for 15 minutes to half an hour.


Bake at 160-170C fan forced for about 12 minutes until golden and the macarons release from the tray when lifted with a palette knife. Allow to cool completely before moving.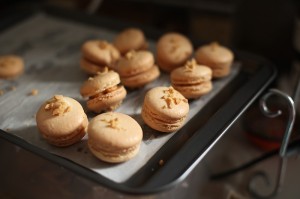 Fill with peanut and salted dulce de leche (caramel) filling and sandwich macarons together. Allow to set for a few hours.
Munch!