The salted peanuts whet our appetites. I'd love to know if these are cinnamon sticks or cassia bark…


Lightly steamed oysters with ginger, shallots and soy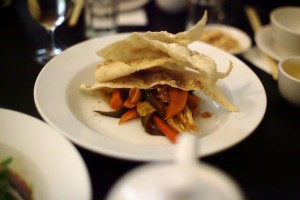 Chinese pickled vegetables, sweet, salty and sour with crispy wonton skins sprinkled with schezuan pepper & salt


Bugtail wontons with schezuan chilli oil


Crispy prawn wontons with a sweet Vietnamese style dipping sauce


Slow roasted lamb pancakes- peking duck style. The home made sauce was tasty but a little too thin for the application, it dripped everywhere! I am not a big fan of 'thickened' sauces (apart from gravy) as a general rule, but here it needs it.


A standout crispy pork belly dish. Salty and moreish, with a refreshing coleslaw packed with fresh herbs to balance the richness of the meat.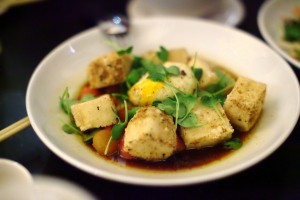 The silken tofu was delicate and beautiful with a poached egg in the centre of the plate.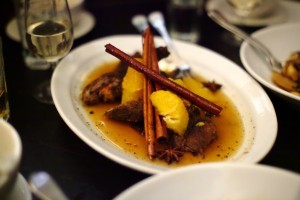 Crispy skin duck with citrus sauce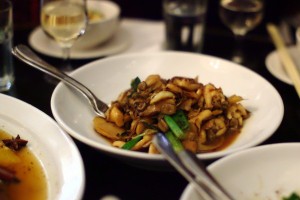 Stir fried mushrooms, fresh, flavoursome, delicate and a wonderful foil to the rich meats we ordered.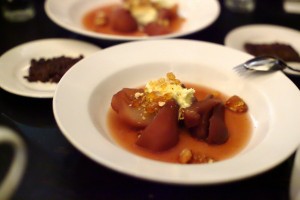 Pears poached in red wine with sour cream and almond praline- cleansing and light