They say it's good for kids to have to self esteem right? But what happens when they grow up and start to think they can take on the world? When they boast quietly to their friends about what they can do? Their friends call them on it, that's what. This is what happened to me recently, after torturing my friends with tales of testing the snow egg recipe and how delicious it was, and what time I had made it in, they decided I should consider bringing it to our next party. No, no, I said, are you mad? And anyway, my Sunbeam ice cream maker has died again, for no apparent reason. Oh. Disappointment reeks. 'Well, maybe…', I think, I could get that Kitchenaid mixer with ice cream making attachment I've been dreaming about for my birthday. After all, Grandma's lovely old Kenwood mixer is about to stop mixing any day now, plus I can't find the dough hooks and it would be so nice to make bread at home…ah the justification.
So yes, I agreed to the madness that is bringing snow eggs to a dinner party. Saner to do it at home, but only marginally. Let me just say this. Yes, I tested this recipe under competition conditions and did it in a short period of time, but this is nigh impossible to replicate at home. Who wants to cook under that kind of pressure at home? You want to relax, have some music on, do it properly.
If you, like me, have had your ego stroked and are considering the task of snow eggs for dessert- give yourself a few days in advance to shop, prepare the components ahead of time (I'll tell you which ones) and you will make your life easier. Let me tell you that you will still be scared about ruining the maltose tuile on top but you get to play with a blow torch so it's worth it.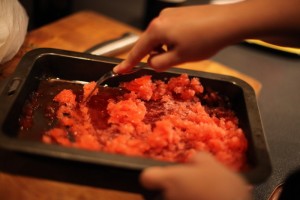 Strawberries and Guavas give this granita its coral colour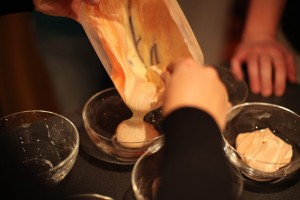 The Guava Fool (a mixture of vanilla custard, double cream and guava puree)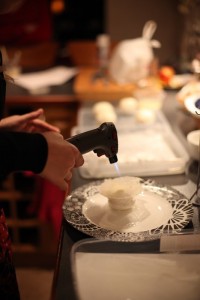 A small scoop of ice cream is placed in the centre of two meringue halves and the tuile is melted on top with a blow torch. Btw, I used glucose here instead of maltose as I had run out and it worked really well as a direct substitution.


Oh Snow Egg, you look so easy on youtube…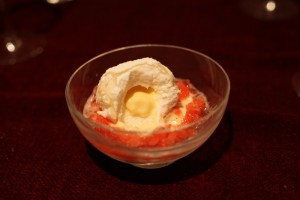 If you are working during the day and only have evenings to prepare, I would recommend doing the shopping 3 days before, the ice cream, granita and puree 2 days before, the vanilla custard and maltose tuiles the day before (keep in an air tight container between layers of baking paper). The meringue you should make on the day as it has a tendency to deteriorate if left around for too long- it is not a fully baked meringue, it is only poached for about 15 minutes so is still softish.
Remember, you can always just make the custard apple ice cream, which is delicious. I won't put the recipe up as it already on several sites on the web. Just do a search for Peter Gilmore's snow egg and you'll find it.