Neil Perry's Spice Temple is located underneath Rockpool Bar & Grill on Bligh Street in Sydney's CBD. At first we walked past its plasma screen door, assuming it was an advertisement with its virtual shimmering silk curtains. Once we discovered that it was actually the front door we glided down the circular staircase to the industrial looking bar area. The restaurant area however couldn't be more different. The room is warm, cosy and dark, with the centre of each table lit by a hanging light, so that each dish can be viewed clearly. This ambience is comfortable and relaxing. You can see your dining companion and food but feel bathed in shadow. Very sexy.


The Sheep and the Monkey. I meant to have just one cocktail and then move to a civilised wine. Mmmm. The cocktails are dangerously good. Be warned. After three cocktails I thought perhaps it was time to pause.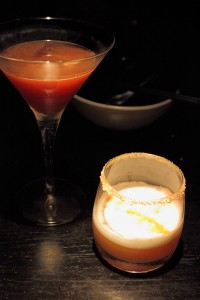 The Horse and the Tiger. The Tiger is my favourite. If you are not familiar with the term 'pistachio fat-washed whisky', do ask. They'll tell you how its made. An amazing depth of flavour uncommon in most Sydney cocktails.


Spinach and Sesame Salad. Sweet and tangy.


Crispy pork belly. I don't really have words to describe. Too good. Must have. Oh ok, found some. Sticky, salty, moreish. Feel bratty, want some now.


Stir fried king abalone mushroom with garlic and chives. Thick, meaty, almost squeaky. Such a filling vegetable dish, delicious.


Fish drowned in heaven facing chillies and Sichuan peppercorns (apparently Sichuan, Szechuan and Szechwan are all acceptable spellings). My favourite choice for drama alone. This dish was covered with many more dried chillies which were removed by the waiter using a spider (large wire spoon). The real star is the Sichuan peppercorn which numbs your tongue and teases you.
My only negative comment I could say about Spice Temple is the double seating. If you prefer to relax into the evening then book the later seating rather than the early one. With some restaurants you are happy to leave at a given time, but here I think you'll want to linger a while.
Spice Temple
10 Bligh Street, Sydney
8078 1888