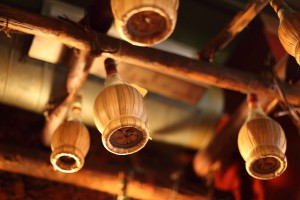 A few weeks ago we went to Filicudi, an Italian restaurant that came highly recommended by a colleague. So highly recommended in fact that discussion of my future firstborn arose. Don't worry I didn't promise anything.


Fiore di Zucchini. These were beautiful and cheesy, but starting with garlic bread and then these was not really a good plan considering we ended up having three courses.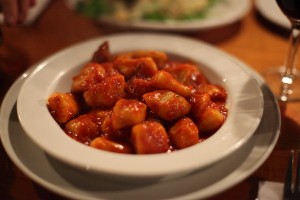 Gnocchi Ragu- tender succulent gnocchi with a simple sauce studded with meat chunks.


Penne Granchi (blue swimmer crab in a 'pink' sauce is how this dish was described). This was probably my favourite dish, it absolutely tests the love in your relationship- if you're willing to share this one then you know you're on to a good thing.


Costolette d'Agnello. Marinaded lamb cutlets (garlic, rosemary and olive oil?) grilled to the customer's liking (medium to medium-rare) on a bed of soft polenta that was neither dry nor bland.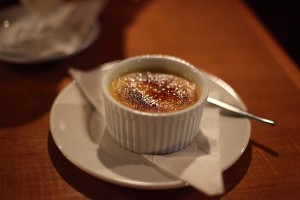 Baileys Creme Brulee. With enough Baileys added to the mix so that you can actually taste it. The top was satisfyingly hard and shattered on a firm whack of the spoon.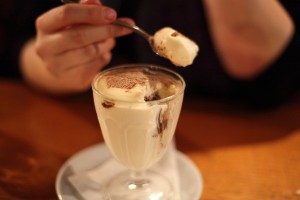 Written up on the specials board quite simply as 'Mascarpone'. Described by the waiter as a house special, it was magnificent, a rich, creamy, liqueur-laden tiramisu. I want to go back and try the Pere Filicudi- poached pears.
I also think the pizzas are worth trying as we saw several people walk past, arms laden with pizza boxes looking quite pleased with themselves.
BYO is accepted, and for $2 per person is fantastically reasonable.
Filicudi
11 Ramsay Rd, Fivedock
9713 8733