Sorry for the delay in posts, now that I am back in the real world (I.e. working) it has taken me a week or two to get used to getting up early again!
Anyway, thought I'd share a photo of a non-food related project I completed over the holidays after hearing of a family member becoming pregnant. Such a good excuse to make something so cute. It is a baby beanie from a Debbie Bliss pattern book and is made with two balls of cotton, in off-white and teal.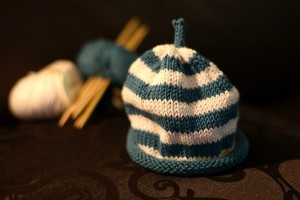 I normally wouldn't dream of knitting in summer, especially one as sweltering as this one, but I have been sitting in front of the air conditioner on most of the really hot days, so it felt quite appropriate!
Granny T is what Paul likes to call me when I pull out the knitting in the Blue Mountains, and it has become a bit of long standing joke. Oh well, here is the damning evidence!