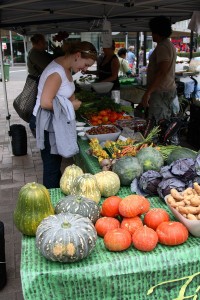 On Saturday morning I visited Parramatta markets in Church Street Mall for the first time, after meaning to head down there for ages. It was small but worth going for the wonderful vegetable stall and is infinitely more relaxing than some larger markets where the hustle can get tiresome.


Beautiful zucchini flowers, carrots, snake beans and purple sweet potatoes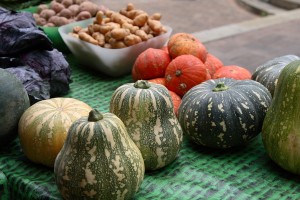 Variety of pumpkins, with Pink Fur Apple Potatoes in background. The potatoes got washed, thickly sliced and chucked into the bottom of the roasting tray which had free range chooks, sage, lemon, garlic, olive oil, salt and pepper and a bit of rosemary/lemon salt. Absolutely delicious. Please try them. Should be great in potato salad too, like kipflers.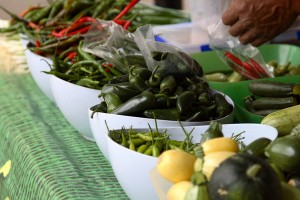 Chilli being bundled into bags


Beautiful unusual varieties of tomatoes.  I bought the dark cherry tomatoes, yum.
There were plenty of other great stalls too to check out next time.


I bought some good looking basil from the herb stall which is now replanted in a larger pot and happily lapping up the sunshine on our balcony.


Jamaican BBQ


A vast range of Jams and preserves. If you like the less common varieties you are sure to find something here along with the usual favourites.