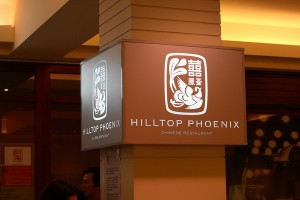 There's something to be said for efficient food. Not necessarily in the preparation, but in the eating and the service. Not exactly fast food, but not slow food either. There are times when on a whim the idea of watching a new film at the local cinema sounds pretty good, and after the drama of finding a parking spot close by, a restaurant near the cinema holds great appeal.
So we visited Hilltop Phoenix with hungry bellies and an hour and a half up our sleeves. It could go either way, an hour and a half is plenty of time to eat unless it is busy, so on a Saturday night this is a bit of an ask. Luckily it's still early and we've just missed the young family rush and have arrived before the later-arriving leisurely diners arrive.
After much indecision we decide to splurge on the Peking duck, it's about $50 for two courses. First course is the pancakes, then choose how the rest of the duck flesh is prepared, either in a stir-fry with noodles or sang choy bau. I needn't have worried about finishing the pancakes, they were perfectly powdery and soft in contrast to the crisp and rich duck skin, sharpness of the shallots and sweetness of the thick hoisin sauce. I could eat this forever.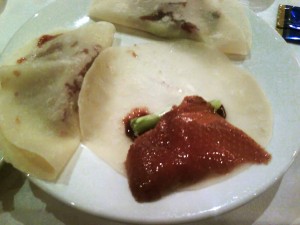 Peking Duck
When the lettuce leaves arrive I'm curious as to what's in the filling apart from the duck which is finely chopped, along with mushroom, onion, sesame seeds, sliced shallots, deep fried vermicelli and something crisp but the flavour alludes me. It's familiar, bamboo shoot? I wonder, as it seems to be more about texture than flavour. I ask the waitress, she only knows the Chinese name, which is sun (sounds like soon) but she goes away to find out the English translation, and I'm pleased to find out it was indeed bamboo shoot. We make our film with plenty of time and consider it a successful dinner, if a little rich.


Sang Choi Bau
Our normal visit to Hilltop Phoenix involves Yum Cha on a Sunday mid-morning, and it's now routine to tell the host how many in our party, grab a raffle ticket and take our place in the hopeful and hungry crowd, beadily eyeing-off diners who look ready to vacate. Even when busy it's only a ten or fifteen minute wait. If you are a small group of two or four your chances of getting a table quickly are even better.
The Phoenix Group of restaurant has four restaurants in Sydney which are run by sisters Anita Yuen and Alice Lee. Hilltop Phoenix in Castle Hill Towers; Rhodes Phoenix at the top of Rhodes shopping centre; Manly Phoenix on the East Esplanade and Sky Phoenix at the top of Skygarden on Castlereigh Street in the city.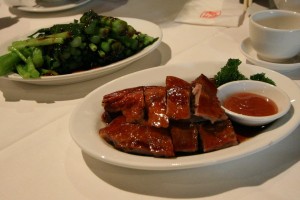 Roast duck with choy sum in background


Crispy fried rolls filled with prawn and dim sims in background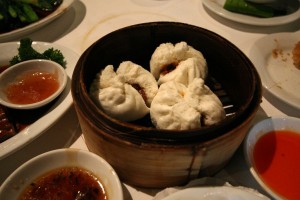 Cha Siu Baau (BBQ pork buns)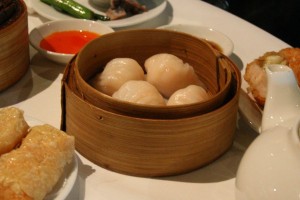 Steamed prawn dumplings
At Hilltop Phoenix the usual Yum Cha favourites are available, with dishes such as roast pork and duck floating around regularly for my dining companion. I'm satisfied with the many varieties of steamed dumplings, and my only gripe would be that I have to ask for chilli sauce, but when I do it arrives promptly.


Sliced BBQ pork
My coveted dish of the moment is jin deui, red bean paste surrounded in a chewy pastry with a peanut on top then deep fried. It truly is heaven and I can always fit these in no matter how much I've eaten. I can't find it on any trolleys so I order it from the kitchen. If there's no more jin deui, as sometimes happens if you come too late, there is always dan tat, egg custard in flaky pastry, still warm if you are lucky; or mango pancakes, thin and moist and filled with chilled mango pieces and a fluffy sweet cream, perfectly soft and delicate so that one cannot help but make a bit of a mess. It's all part of the experience. At around $45 for two greedy people it is an indulgent lunch but then again, we probably don't need much for dinner now.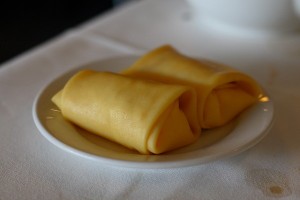 Mango pancakes
In competition with Hilltop's Yum Cha offer is the Excellent Chinese Restaurant outside Carlingford Court which offers a smaller venue and equally delicious food, but perhaps less range of dishes. I surprise the waiter by ordering Bo Lei tea which has a deeper, darker colour and flavour that is refreshing and cuts through the oilier dishes. He rewards my enthusiasm by pouring the tea with such grace that I feel inspired to tap the table with my knuckles to say thank you. He smiles and I feel welcome here in a way that a bigger venue cannot achieve.
If it's tasty, efficient food you are after in the north west of Sydney, you would do well at both Hilltop Phoenix and the Excellent Chinese Restaurant, but perhaps your budget should dictate your final decision. After dining at the Excellent Chinese Restaurant your wallet will be thankful. We left content after five dishes and only $25 out of pocket. They may not have had the deep fried dessert that I love, but this is something I could do most weekends and feel good about.