At the risk of opening Pandora's Box, I am going to show you what I've been growing in my cupboard. Part laziness, part curiosity, one dark cupboard and a frisky sweet potato makes…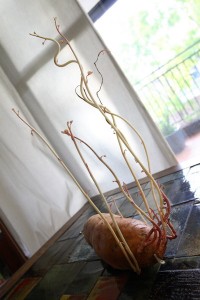 a lobster!
Dave was entertained by this, until he learned that the sweet potato lobster then became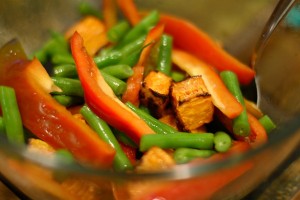 Lobster Salad! Made in true vegetarian style, with no lobster, just roasted sweet potato, blanched green beans, red capsicum, with a macadamia oil, lime and chilli dressing.
All this was really a side for


Whole Barramundi, cooked in foil on the BBQ with sliced garlic, ginger and lemon in its belly and some extra lemon juice on top.
The extra randomness of this post is an homage to the geeks who make my life easier (great IT knowledge and obsession to make things work at optimum efficiency) and at the same time highly entertaining. They admit this grudgingly.
Edit: The barramundi made a guest appearance as the Bigger Fish in this Darths & Droids strip.
Edit 2: In response to some of the comments on this post, in no particular order:
Is Barramundi 'sushable'? How many times does a new word need to be used to become listed? Anyway, back to the Barramundi. Not to my knowledge. Tuna, salmon and kingfish are the most common and delicious sushi found at Japanese restaurants and sushi bars in Australia. That's not to say it shouldn't be attempted…
Macadamia Nut Oil- this seems to only be available in Australia, but you can also use another nut oil such as walnut or even Extra Virgin Olive Oil (EVOO- also a Naboo-sounding name) with a splash of balsamic vinegar. I often use this instead. If you come across caramelised balsamic vinegar this is also tasty.
Red capsicum is indeed red pepper, also:
Eggplant is Aubergine
Zucchini is Courgette
Rocket is Arugula
Coriander is Cilantro
They are all the ones I can think of right now!
Also, there is no D&D convention planned here. Yet. I wonder how many Barramundi would fit on our BBQ? Mmm…
Edit 3: Ok, I will clarify my comment on Macadamias. Yes, we all know they are native to Australia. They are also native to New Caledonia and Indonesia, but in terms of being grown commercially, they are available in Hawaii though apparently the industry is declining there due to poor weather and pestilence (ref: Wikipedia).